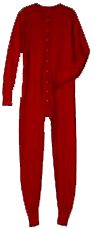 Tie Dyed Shop > TD176


Red Union Suit - Big Sizes Only!


This is a straight up red union suit for big men. A 100% cotton red (not tie dye) long john in large sizes only. These are hard to find items that we happened to locate.

Only available in 2X, 3X, and 4X!